Severna Park MD Kitchen Remodeling, Bathroom Remodeling & More
Coppertop Tile offers professional, top quality kitchen remodeling, bathroom remodeling, tile flooring installation and any other project requiring tile installation for homes throughout Severna Park Maryland.
Whether you're choosing a new design for your bathroom, you have several different options to choose from. From backsplashes to tile installation, there's so much you can do. Bathrooms are often referred to as the "personal escape" for many. This is just another way to personalize the space and prolong the length of time it remains in tip-top condition.
In terms of tile installation, some of the most popular options are between ceramic and glass tiles. Both offer a wealth of depth to your newly styled bathroom. Ceramic tiles are durable and easily maintained, while still offering a beautiful aesthetic. Glass offers a medium that creates gorgeous designs in a lasting and easy to clean material. They can be installed in a wide variety of colors, which is great for those look to add a little more color and durability to your bathrooms.
As for backslashes, they not only provide an attractive finish, they also fortify weaker areas. The tile back splash creates a protective shield over the wall it covers, and prevents it from being affected by spills and spattering. Walls can be easily damaged, particularly in bathrooms, just behind the sink, but because the tiles are hard water resistant, the wall space they cover won't run such high risks of damage over the years. Installed just behind the sink, back splashes add a lot of value to your bathroom once in place. They not only have a high-function purpose, but they also help the space appear more sophisticated, bright, and opulent. The decorative quality of these back splashes are what make them such a big hit with people looking to add a little character to their bathroom spaces.
Homeowners should feel free to get a little creative with their bathroom remodeling options as well. Choose from different showers, styles, patterns, mosaics and colors. You might consider doing one or all of them in a what that makes striking contrasts or soothing compliments choosing an option that contrasts with the rest of the colors in the bathroom, or one that compliments them.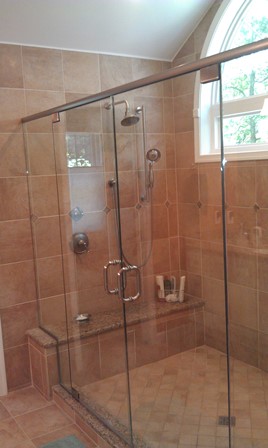 All it takes to begin the installation process by a professional tile contractor at your Severna Park MD home is a quick phone call or email us using our Contact Us page.