Severn MD Kitchen Remodeling, Bathroom Remodeling & More
Coppertop Tile offers professional, top quality kitchen remodeling, bathroom remodeling, tile flooring installation and any other project requiring tile installation for homes throughout Severn Maryland.
You don't always need your bathroom space to be at the end of its functioning rope before you decide to make changes and upgrades to it. Some of the best changes and redesigns come to a space as a result of personal preferences for the home.
Perhaps you're looking to add a bit of color to your bathroom space. That would be where Glass Mosaic Tile would come in and serve your tastes well. The design is probably the biggest benefit of having something as beautiful and aesthetically pleasing as glass mosaic tiles installed in your bathroom. It looks great as it wraps the walls and equally as fantastic when it covers the floors. You can choose between solid and multicolored, but the intricate pattern of multicolored mosaic tile is something a lot of people love seeing in their homes.
Glass tiles are resistant to stains as well. That's probably one of the things large families will really appreciate. Which means, that if you wanted to have this tiling installed in your kitchen, your floors would be safe from any cooking splashes and accidents that might crop up. They can be wiped down with a damp cloth or if you are so inclined, you can use chemical cleaners and agents to clean them, as they don't run the risk of being damaged. And any soap scum buildup you see in your bathroom's mosaic tiling can be done away with from employing a little vinegar and warm water.
Mosaic glass tiles are also Green-friendly, as it requires only half the energy necessary to produce glass tiles as opposed to ceramic tiles. Those Severn residents looking to reduce their own carbon footprint can feel confident in their decisions to go with this tiling option.
The beauty of glass tiling, we've found, comes in when the glass's colors reflect light. No other tiling material has such a radiant quality. The luminosity of this tiling option is a definite plus. In direct contrast to the elegant and artful quality of this tile is its durability. When cared for properly, these tiles will hold up to the standards and even surpass them.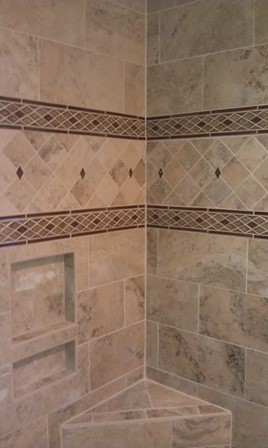 All it takes to begin the installation process by a professional tile contractor at your Severn MD home is a quick phone call or email us using our Contact Us page.