Kitchen Remodeling Contractor Crofton MD & Anne Arundel County Maryland
For those in the Crofton Maryland area, Coppertile Tile offers products and services that span a wide array of tasks and amenities. After all, the kitchen isn't just a place to prep meals and enjoy them. Kitchens are great conversational areas, as well as a great place to sit down at the kitchen island with your laptop and get a little work done at your leisure.
There's a big chance that your home's kitchen is your favorite place in your home. If it isn't, and you'd like it to be, there are a few ways to remedy that. Kitchens are highly customizable and Coppertile Tile is no stranger to these fixes. Some of the ones we specialize in are Kitchen Back-Splashes, Cabinets, Ceramic Tile Floors, and Granite Counter Tops.
Perhaps you already have a few of these in place and are looking to go the next step up for your kitchen. We can help you with that as well. Coppertile Tile will work hand-in-hand with you to determine what type of custom work you're looking for, and then we'll formulate a plan to install these changes into your kitchen space. These custom changes include: Custom Tile Lay-Outs and Inlays, Glass and Stone Mosaic Tiling, and Heated Ceramic Tile Floors.
Custom tile lay-outs and inlays are great for opening up the space in your kitchen. Openness is a big redesign goal for many, so this would be an ideal way to achieve that. Glass and stone mosaic tiling add color to your kitchen space, drawing the eyes of all who enter, and heated ceramic tile floors are perfect for those cold winter mornings when you're just beginning your day and have coffee to brew, lunches to pack, or meals to prep.
If you're thinking of including a back-splash in your kitchen's space, there are a few things to note before you do this. Back-splashes are meant to minimize the work it takes to clean up cooking splatters and protect your walls and paint from being damaged by them. The beauty of a single back-splash may add color and the perfect focal point for your large kitchen. For smaller kitchens, it's often about installing an extended back-splash that spans across all walls in the kitchen.
If your kitchen is modern, you may want to consider ceramic tile for its gloss and shine. This will correspond well with the rest of the features in your contemporary cooking space.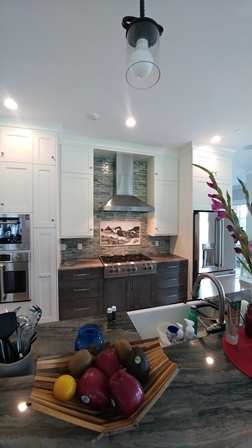 Back-splashes are also used to contrast with things like cabinet color. You might consider a white tile back-splash against black or dark-wood cabinets, or perhaps a stainless steel back-splash against white or light wood cabinets.
Whether you're looking to have a back-splash installed at your stove area, behind the sink, or even as an alternative to covering a kitchen window, Coppertile Tile has you covered. We're working hard to deliver exactly the look and designs our clients have been searching for.
What kitchen changes that incorporate tile work done by a professional tile contrator at your home in Crofton Maryland can we help you with? Contact us today and let us know.