Gambrills MD Kitchen Remodeling, Bathroom Remodeling & More
Coppertop Tile offers professional, top quality kitchen remodeling, bathroom remodeling, tile flooring installation and any other project requiring tile installation for homes throughout Gambrills Maryland.
No matter what your family's needs are, Coppertile Tile can help you achieve them.
Some families have added a master bathroom in order to decrease the time it takes everyone to complete their morning routines and nightly rituals, and after those additions, sometimes customizations must still be made.
For example, many appreciate the addition of heated ceramic tile floors. Easy to care for, an added bonus of these floors is that they don't require heavy chemicals to keep them clean—not unless this is preferred. And because it's not mandatory to use dangerous chemicals to clean these floors, the safety and avoidable risks are a big selling point.
The temperature variants that are custom to the heated ceramic are idea for colder Gambrills mornings and evenings. This is a feature that truly allows you to appreciate the bathroom.
The Shower Spa and Jet Spray System is an amenity that increases the enjoyability of a newly remodeled bathroom space for those who are empty nesters. This feature, in combination with heated flooring, can improve the quality of daily life for every member of the family. The steam is particularly calming at the end of the night.
We're encouraging residents of Gambrills, Maryland to redesign their home's bathrooms based on the changing needs of the homeowner. Some may find that the tub and shower combination may not be as necessary now that they no longer have children to accommodate, so a shower spa with a warming bench, heated ceramic tile floors, and custom shower doors may be in the cards.
Luckily, Coppertile Tile, specializes in the customization of bathroom spaces in the Gambrills MD area. It's our pleasure to renovate bathrooms for the families and empty nesters that are interested in it. We're willing to consult with residents of the home in question and cover all the bases of thebathroom project that many aren't ever aware of.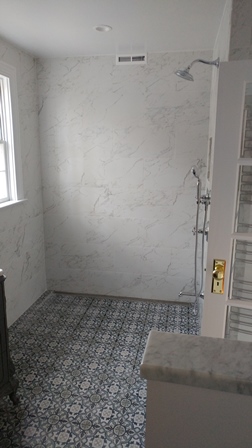 You can trust that our experience and expertise will allow us to tackle any bathroom job head-on, whether that means modernizing your 1960s era bath space or opening up a small and cluttered space to bring in more openness and light. With speed and efficiency, Coppertile Tile is ready and willing to give you the newly designed bathroom space you've been dreaming of for years.
All it takes to begin the installation process by a professional tile contractor at your Gambrills MD home is a quick phone call or email us using our Contact Us page.