Bathroom Remodeling Contractor Crofton MD & Anne Arundel County Maryland
Coppertile Tile in Crofton MD considers bathroom tiling a specialty of ours. When you need a professional, yet beautiful, job done—look no further than us. We can take on your bathroom project and adjust, change, install and modify things like bathroom cabinets, granite sink tops, heated tile floors, light fixtures, sink and tub faucets, tile floors, toilets and even whirlpool and soaking tubs.
Your bathroom is a space you should be able to take solace in and recharge your batteries. Whether that means a long soak or a steamy shower, when they say 'The bathroom is a sanctuary', they mean it.
Back-Splashes
One of our most popular bathroom projects is the installation of back-splashes. In case you're a bit unsure, to give you an idea of what back-splashes are, they are panels behind your sink or, if you choose to have them installed in your kitchen, behind your stove. Their task is to protect the wall from splashes and provide you with an easy-clean surface. Not only that, but back-splashes also have the potential to give your bathroom some really wonderful color aesthetic.
Back-splashes also range in size, so you'll have to consider this before diving headfirst into your project. And if you're unsure about how to make this decision, give us a call. We would love to help you arrive at the right design choice for you.
Custom Tile Showers in Crofton Maryland
Custom showers are another popular bathroom amenity. Not only are they great, in terms of modernizing your bath space, but they're also highly enjoyable. A few of the ways we are really looking to boost your shower space are through the installation of custom shower doors, shower faucets and jet spray systems, custom tile shower floors, shower pans, and shower spas and steam showers.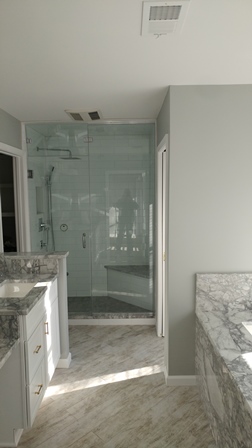 Glass shower doors and enclosures are great for adding light and openness in your bath space, particularly if your bath space is smaller in size. Custom fitted for your space, we typically measure and install your tiling before tackling the custom cut glass for you.
When all is said and done, you will be entirely thrilled with your new space. It will become your new favorite place in the house.
Bathroom Tiling Installtion by Professional Tile Contractor in Crofton MD
With tiling, many people aim for the look of clean lines and wider, more open spaces. You can choose to tile your floor, or wrap the walls in tile all the way around. This is a popular choice for many of our happy customers. It creates very smooth and unified look.
Because tile care is so simple a task, many people decide in favor of this addition to their bathrooms. Ceramic tile is, in fact, one of the most durable and maintenance-friendly options you can select for your floors, walls and counters. All you'll need to do is clean your tile with a damp cloth or a mop, if it pertains to your floors. Using low VOC cleaners is an option as well, although it's rare that they are a necessity.
The customization and redesign of your bathroom space may turn out to be the best thing you've ever done for yourself. Call us today to find out how you can get started with your bathroom remodel.