Odenton MD Kitchen Remodeling, Bathroom Remodeling & More
Coppertop Tile offers professional, top quality kitchen remodeling, bathroom remodeling, tile flooring installation and any other project requiring tile installation for homes throughout Odenton Maryland.
You can meet with our team and have an in-depth discussion with those who will be installing each of your new bathroom or kitchen amenities.
One of the incredibly popular additions that Odenton residents really enjoy is the installation of a Shower Spa and Jet Spray System. Custom showers are not only ideal for relaxation, but they're also great design opportunities for a bathroom renovation, simply because, here at Coppertop Tile, we do whatever we can to ensure you're wholly satisfied with any project we do, such as custom work.
Today, custom showers are highly prevalent bathroom amenities. Not only are they great, in terms of modernizing your bath space but they're also quite enjoyable to utilize. A few of the ways we are really looking to boost your shower space are through the installation of custom shower doors, shower faucets and jet spray systems, custom tile shower floors, shower pans, and shower spas and steam showers.
Glass shower doors and enclosures are great for adding light and openness in your bath space, particularly if your bath space is smaller in size. Custom fitted for your space, we typically measure and install your tiling before tackling the custom cut glass for you. We even offer eco-friendly options for the tiling of your shower spa walls, spa benches, and shower and bathroom floors. With the hustle and bustle of Odenton, Greener, more ecologically sound options are the way of the future and more and more families in the area are looking for options that fit a more conscious lifestyle. Coppertop Tile is pleased to give that to you.
When all is said and done, you will be entirely thrilled with your new space. It will become your new favorite place in the house.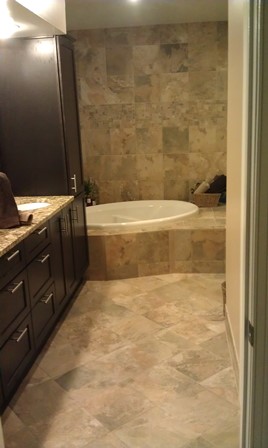 Being able to trust that your new home renovation is going to turn out within a timely manner as possible is a great promise we are pleased to offer those who reside in Odenton and the surrounding areas. In fact, because Odenton is just north of us, it makes the process of sit down meetings, timely workdays, and in person discussions about the specifications of a project that much simpler.
All it takes to begin the installation process by a professional tile contractor at your Odenton MD home is a quick phone call or email us using our Contact Us page.