Coppertop Tile: Professional Tile Contractor Crofton MD
At Coppertop Tile, our mission is to provide our valued customers with quality and class in the carefully designed room of their choosing. This spans bathrooms, kitchens and custom work as well. If you have a kitchen remodeling project, bathroom remodeling project, tile flooring project, fireplace surround or any other tile project in the Crofton MD area make sure to give us a call.
We are here to cater to you and your needs and we endeavor always to ensure that the finished results of our work are precisely what you have envisioned for the spaces in question.
A space that is outfitted with tiles has the potential to open up the floor and wall areas, allowing you more opportunities to customize the rooms with new and exciting style and aesthetic trends in mind.
Why Tile?
Tile – both ceramic and porcelain – have incredibly potential to last through the years. Their longevity outlasts even the most common flooring options, such as carpet, laminate, and vinyl. When properly installed by professionals who know their craft, your tile can last a lifetime.
Tile is known to improve indoor air quality, given that there are no volatile organics in their composition, and therefore, the harm of VOCs being released into the air as a result of the tile's configuration.
Tile is generally low maintenance, as the work involved in cleaning it is relatively mild, and the tiles can, quite often, be cleaned simply enough with a bit of warm water. Avoid the need for chemicals and cleaners in the cleaning of this type of flooring.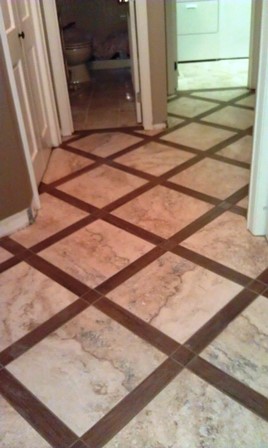 Inhospitable to dust mites, mold, bacteria and other germs, tile is often the go-to option for the replacement of carpet, which has been a great help to people with severe allergies and asthma. For a hypoallergenic option, tile is a great selection for many.
Tile is not simply an option available for kitchens and bathrooms, but is a great choice for the beautification of living or workspaces as well. It has the potential to create dramatic and alluring first impressions in any area. A cost-effective option that adds value to any building, tile offers a wide array of palettes and textures, shapes, colors, and styles for the effect of beautifully customized expressions. Another highly valued perk is the fact that tile installations can be waterproofed, providing traction for the space where it is applied. This makes tile the number one option for swimming pools, patios and showers, as well as other water-friendly areas.
Much like the tile itself, Coppertop Tile seeks to convey elegance and stylistic prowess in all things. For a flooring option that endures, try tile, with its resistance toward fading as a result of the sunlight. Frost resistance and durability are prime reasons why tile serves the ideal purpose for outdoor installations.
Coppertop Tile is proud to install the flooring option that so many residents are pleased to see adorn their walls, pools and floors. We are here to grace the space of your choosing with custom tile in-lays, glass, stone, mosaic, or heated tiles.
We're pleased to welcome the residents of Maryland to Coppertop Tile and our professional tile installation contractors. What kind of tile can we install for you?